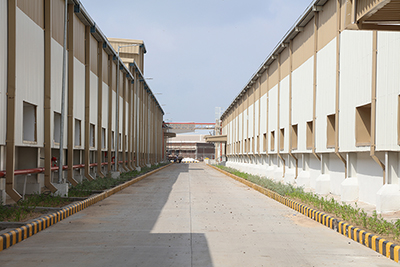 Nandan Terry, proud part of reputed business conglomerate Chiripal Group, has grown manifold since it's inception in 2016, having produced approx. 8000 metric tones of Terry Towels & Towellng products, we grossed a turnover of 45 million USD (FY: 2018-19).
We are a vertically integrated towel manufacturer having latest technology machines right from spinning to processing and can produce 25 million towel pieces per annum.
Our products have found place on retail spaces of reputed retailers & importers across the world. We are supplying internationally from Walmart, Kohls, Biglots, TJX, Ross Stores to United Colors of Benetton, Trent Westside, Walmart India, Reliance Retail in domestic markets.
Committed to environment, we contribute to our society and adhere to best sustainable practices.
We at Nandan Terry Ltd., endeavour to be leaders in every field hence we are committed to serve our customers by providing best quality products at value for money. As we are committed to give to our customers, products made out of latest technology (machines). We consider our employees as our asset and keep on upgrading their skills through regular training programme. We believe to live up to the expectations of our customers, employees and we all strive to do our best to achieve corporate and social goals.
At Nandan Terry, our heart beats for Innovations to meet the requirements of customers. We have developed Bamboo Towels, Zero Twist Towels, Aroma Towels, and towels made from all Natural Fibres. We have in house R&D & Design facility to cater to all kind of designs and trends as per the customer's need.
Advantage Gujarat
Textile Hub Of India
Largest producer of denim fabric (65-70%) in India and 3rd largest in the world.
Largest producer of cotton in India with 31% share.
Highest exporter of cotton.
Superior Connectivity
Superior infrastructure connectivity through roads, rail, airport and ports.
Proximity to Market
Close proximity to raw material suppliers and end users for all businesses.
Lower marketing and transportation overheads.
Low Cost of Production
Uninterrupted power supply in state of Gujarat.
Easy availability of skilled and unskilled labour.
Easy availability of key raw material - cotton, cotton yarn.
Watch Video Presentation